About
Kingpin Components was set up by Andy Marks who explains how it all started:
"Tony Grantham had supplied me with a replica Dunlop rubber saddle for a Norton International project a few years ago. I had been very happy with it so went back for another one in September 2015 for a new Triumph project I was working on. As he handed it to me he told me it would be the last one available. He explained that the tooling was tired and needed some work and he didn't want to invest the time or money in carrying this out as he was looking to retire and stop doing the auto jumble stalls he had been doing for decades. I wasn't aware of any other source and felt it would be a shame to see them stop. I inquired about buying the tooling from him in order to be able to continue supplying them and hopefully keep a few more rare motorcycles on the road. A deal was done and by early 2016 I had the tooling, the repairs had been carried out and a number of the parts where updated and being made using CNC machines. The saddles started selling, largely on eBay, and Kingpin Components was born. Since then I have added a number of other products to the range, usually after discovering that they weren't available anywhere else!"
Kingpin Components has continued to grow and now specialises in small batches of hard to find parts for a range of vintage and classic machines. As the range of products increases so does the list of manufacturing methods we have access to.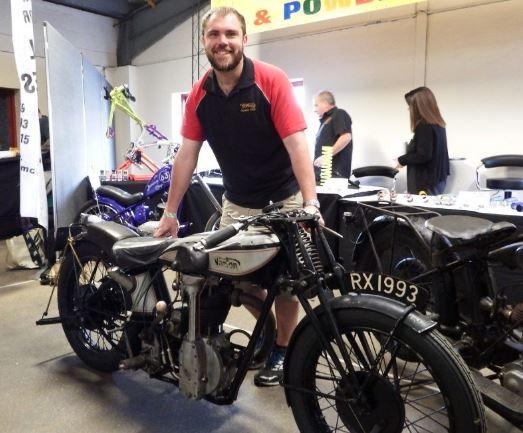 Andy with his 1928 Norton CS1 at the Stafford Show in April 2018